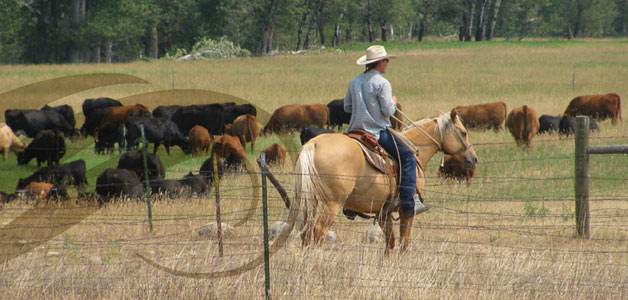 Bench Ranch is open year round, featuring a number of outdoor activities for those who are so inclined, along with a relaxing environment for those looking to kick their feet up or simply wander through nature. In the summer, guests can enjoy hiking, fishing, horseback riding, biking, rafting, and kayaking, and the fall and winter bring hunting, skiing, and snowmobiling.
Or just be still…
Listen for the sounds of Rocky Mountain bluebirds, vireo, goldfinches, chickadees, thrushes, and magpies in the plentiful hay meadows and pine clad hills that frame the Beartooth Front. Early risers will welcome the clear, clean morning song of the meadowlark, Montana's state bird.
Hiking
In addition to some beautiful walks on the 5,000-acre Bench Ranch, the Torgrimson Place is just a few miles from many spectacular trailheads. The East Rosebud to Elk Lake, the West Rosebud to Mystice Lake and the Stillwater to Sioux Charley Lake are all nearby comfortable day hikes in alpine surroundings where the mountain vistas, the wild berries, and the chance to see elk, moose and more will keep you coming back.
Fishing
Montana is world famous for its fly-fishing and the blue ribbon rivers duly receive plenty of fishing pressure during peak season. Not here. Guests have access to 2 ½ miles of the West Rosebud riverfront as their own private waters. In keeping with our Holistic Resource Management philosophy only catch and release fly-fishing is allowed. Should you wish to vary things and look for a trophy keeper, then the Stillwater and Yellowstone Rivers, both with public access, are just a short drive away. We are happy to arrange guided float trips on these rivers upon request.
Horseback Riding
Your first glimpse of this open rolling country will make you want to saddle up and ride the range. Within a few miles there are opportunities for all skill levels, from day rides to longer trips with outfitters who will take you to the high country.
Watersports
There are tubing adventures on the West Rosebud, right outside the front door, and smaller, gently running tributaries are home to waterholes that make for perfect wading and dipping.
The Stillwater and Yellowstone Rivers also have rafting sections for all levels, from scenic flat water cruises to whitewater adventures, and experienced kayakers may wish to tackle the Class V waters of the upper reaches of the Stillwater. (The name is certainly a misnomer: the Stillwater has less quiet water than any river in the state!)
Snowsports
The popular Red Lodge ski area is 45 minutes from Bench Ranch, featuring 1,600 acres of downhill terrain and 2,400 feet of vertical drop. Particularly known for great spring skiing, this area is best for those who want true Montana conditions without the lift lines and big business feel of the major resorts.
Cross-country skiing and snowshoeing are also available on and near the ranch.
Elk and Mule deer abound in the hills surrounding the Torgrimson Place, while Whitetail deer tend to hide in the abundant cover of the river. Fox, marmot, raccoons, squirrels, owls, Golden and Bald eagles, and coyotes know this area as their home. Mountain lions and black bear live in the region as well, but tend to shy away from the home sites.